Not able to attend the 2019 GARBC Conference? We've brought the conference to you! If you did attend the conference, you may find yourself in the photo galleries! Read news and view photos from each day of the conference. Audio of conference messages is also available.
The lobby of the Des Moines Holiday Inn conference center is quiet now, seemingly for the first time in five days. The conferees and exhibitors …
General Session—The Clarity of the Throne Friday Morning, June 28, 2019 Jon Jenks, State Representative, Wisconsin Assoc. of Reg.
General Session—The Minor Key of Worship Thursday Evening, June 27, 2019 Mark Vroegop, Pastor of College Park Church, Indianapolis
General Session—The Harmony of Worship Thursday Morning, June 27, 2019 Mark Vroegop, Pastor of College Park Church, Indianapolis
"Last evening, we looked at the purpose of worship," Mark Vroegop said as he kicked off Thursday morning's first general session. "This morning, I want …
General Session—The Purpose of Worship Wednesday Evening, June 26, 2019 Mark Vroegop, Pastor of College Park Church, Indianapolis
Scott Polling, pastor of Harvest New Beginnings in Oswego, Illinois, led a training module Wednesday on the burdens and blessings of ministering in a larger …
Dan Parker, associate pastor of worship and music at First Baptist Church, Elyria, Ohio, led a module Wednesday on the art and science of putting …
Diane Scallon, pastor's wife of Grace Baptist Church, Laurel, Maryland, spoke on building relationships with God and others, during the Wednesday afternoon module for women. …
General Session—True Worshipers Wednesday Morning, June 26, 2019 Mike Augsburger, Pastor of Soteria, Des Moines, Iowa
General Session—Worship as Giving Yourself to God Wednesday Morning, June 26, 2019 Ross Shannon, Pastor of First Baptist Church, Lapeer, Mich.
All people are worshipers of one thing or another, according to Mike Augsburger. "God has created all humanity to worship, to stand in wonder of the things we're passionate about," he says. And that passion inevitably overflows into worship. For far too many people, the problem isn't that they're not worshiping; it's that they're worshiping the wrong things.
General Session—How the Holiness of God Fuels Our Worship (Isa. 6:1–13) Tuesday Evening, June 25, 2019 Mike Hess, National Representative of the GARBC
GARBC National Representative Mike Hess opened the first general session of the 2019 Annual Conference by announcing the opening of enrollment in a national 403(b) …
A great need exists for churches to develop a culture of intentional evangelism. This was the subject of Tuesday's module by Pat Nemmers (lead pastor …
The Council of Eighteen, governing body for the Regular Baptist Churches, met on Monday evening and Tuesday morning ahead of the 2019 conference. Every year, …
As Friday morning turns into Friday afternoon, the 2018 GARBC Conference winds down. The exhibitors begin packing up their displays, and the attendees begin wending …
On Friday morning, John Greening delivered his last conference sermon as national representative. "This could not have been a more delightful experience," he said, referring …
On Friday morning of the conference, attendees honored John and Daria Greening and bade them a fond farewell. Although the Lord surely has many years …
There was great excitement and anticipation Friday morning as the Grand Prize Winners were announced. At 9 a.m., RBP business director Tony Randolph randomly drew …
"Paul's theme for tonight, for us, is how we walk," said Thomas White in Thursday evening's general session. Walking is one of Paul's favorite metaphors …
On Thursday evening, the Council of Eighteen and outgoing national representative John Greening formally dedicated incoming national representative Mike Hess and his wife, Christina, to …
The 2018 business meeting began with John Greening's final annual report as national representative. Greening updated the messengers on many of the associational developments during …
Incoming national representative Mike Hess shared from 1 Timothy 3:14–16 Thursday morning. "Just as Jesus reveals who the Father is, the church reveals who Jesus …
"We find ourselves at a seam or a hinge in the argument of the book of Ephesians," said David Gunn, director of Regular Baptist Press, …
At the annual business meeting on June 28, messengers voted to approve Mike Hess as the new national representative of the GARBC. The vote was …
What pastor isn't in search of the right formula to see his local church grow? But what does growth mean, and how is it to …
During the Wednesday evening service, the association honored Webster Frowner, a longtime pastor in the GARBC and currently the representative for the Mid-Continent Association of …
"I really began to understand 'fathers do not provoke your children,' when my own children became teenagers," said Dr. Stephen Pettit, president of Bob Jones …
John Jasper (1812–1901) lived in fascinating and historic times. Born into slavery before the Civil War, Jasper became a Christian in 1839 and, later, an …
National representative candidate Mike Hess took questions from conferees on Wednesday afternoon. In a session lasting 80 minutes, Hess fielded 30 questions on a broad …
"I don't know everything," said Duke Crawford, pastor of Emmanuel Baptist Church of Toledo, Ohio, in Wednesday morning's first general session. "But I do know …
"Who am I? Who are you? What is my identity?" asked Thomas White, president of Cedarville University, at the beginning of the 2018 conference's first …
The annual Council of Eighteen meetings were held on June 25 and 26 ahead of the 2018 annual conference. Every year, the council meets to …
FISHERS, Ind.—The 2018 GARBC Conference grand opening happens June 25, 2018! Pastor Mark Neal and the staff of Hamilton Hills Church, conference hosts, extend a …
Hearts were stirred and spirits were lightened on Friday morning as conference attendees departed North East, Maryland, for their respective places of residence and ministry. …
"Mentoring Young men for Ministry" was the final "best church practice" examined at the 2017 GARBC Conference in North East, Maryland. One of the most …
"It's been a real passion of mine to try to help people think Biblically about worship," said Ken Pyne as he introduced his workshop topic, …
Anyone in vocational ministry knows the pressure upon marriage that it can bring. As conference attendees prepared to head home to their ministries on the …
The messengers of the Regular Baptist Churches meeting in session on June 29, 2017, at North East, Maryland, elected six new or returning members to …

Planting churches is a little like hunting elk, says Jim Tillotson, president of Faith Baptist Bible College and Theological Seminary. In both cases, lots of …
On Thursday night of the 2017 GARBC Conference, National Representative John Greening paused to pay special tribute to Ruth Van Pelt for her many years …
National Representative John Greening announced his retirement plans on Thursday morning at the annual business meeting of the 2017 GARBC Conference. "I can honestly say …
"Pastor Mike Hess, could you fulfill faithful gospel ministry if you, perchance, got the job of team chaplain for the St. Louis Cardinals?" "You know, …
Stay in one place for very long and you will certainly stand out, as Pastor Don Shirk said in the Thursday morning general session of …
Students Alive! kicked off day three of the 2017 conference with two great sessions featuring Matthew Malin (Piedmont International University) and Caleb Acree (Faith Baptist …
Alumni and friends of Faith Baptist Bible College and Theological Seminary enjoyed cheesecake, fellowship, and giveaways following the last evening session of the 2017 GARBC Conference. …
"What you have to decide is, is the church going to be a haven of grace?" The question Steve Viars poses is a probing one. …
In his youth ministry workshop on Wednesday morning, Josh Jones of Breesport (New York) Baptist Church asked a question that can be transformative to any …
"If we asked our neighbors to just brainstorm words that come to their minds when they think about our church, how long would it be …
"It pays good money to be a hypocrite today," said Pastor Mike Hess of Calvary Baptist Church in Mount Pleasant, Iowa, at the beginning of …
Students Alive! began the morning with two great sessions with Edward Estes (Virginia Beach Theological Seminary) and Dr. Jim Lytle (Clarks Summit University). Students were …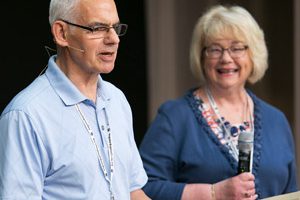 In a timely, relevant fashion, Jerry and Sherry VanHooser offered hope and encouragement to those in ministry in their workshop titled "How Not to Lose …
It's a shame that secular activists and civil governments have managed to corner the market on social justice, because that's really a cause the church …
"Ultimately, orthodoxy requires that we move beyond the abstract of doctrine to implementation," said national representative John Greening during the first general session of the …
Fire and teens don't always make the best combination, but in this case they made for a great start to the week! After joining the …
The Council of Eighteen, governing body for the Regular Baptist Churches, met on Monday morning ahead of the 2017 conference. Every year, the council takes …
Friday, July 1, 2016. As the conference attendees and exhibitors head out to their vehicles, preparing for their journeys home, there is a palpable sense …
Daniel Davey finished out the 2016 conference's sermon series, "Preaching Christ from the Old Testament," with a message from Isaiah 53. "When we look at …

Dr. Jim Lytle delivered the sermon on Thursday's final session. His text was Psalm 2, an enthronement Psalm that is shot through with references to …
Just as God expects living things to be fruitful and multiply, so He expects churches to do the same, suggested Dr. Ken Davis at the …
Mickey Farlow, evangelism and discipleship pastor of Harvest New Beginnings, led a workshop on outreach at the 2016 GARBC Conference, which was held at Harvest …
"Preaching Christ from the Old Testament" was a preconference module offered in connection with the 2016 GARBC conference, which took place at Harvest New Beginnings, …
"Some have called this the fifth gospel," Daniel Davey said on Thursday morning of the GARBC Conference, referring to the book of Isaiah.

On Wednesday evening, National Church Planting Coordinator Clare Jewell enthusiastically introduced the Genesis initiative to GARBC Conference attendees. The goal of the initiative is to plant 100 new Regular Baptist churches by 2025.
In the days of Isaiah, Judah was a kingdom in decline. "If only Israel could have a king that would exude all of David's good traits and none of his bad ones," Daniel Davey mused in his sermon on Wednesday evening.
Ladies attending the GARBC Conference enjoyed the beautiful grounds of Emerson Creek Pottery during a ladies' get-together.
National Representative John Greening and his wife, Daria, were honored after the Wednesday evening session of the GARBC Conference. With a surprise ceremony celebrating the Greenings' two decades of leadership ministry to the association, Council of Eighteen chairman Ken Floyd Spink delivered a touching tribute.
On June 29, the new 2016–17 Council of Eighteen was formally introduced to the attendees of the GARBC Conference. Voting messengers had cast their ballots …
"You had a chance to hear a workshop on culture wars or outreach and preaching, and yet you chose to attend one on continuity and …
Church messengers from all across the country convened on Wednesday, June 29, to attend the national association's 2016 business meeting. After receiving annual reports from …
"What are we doing right and do we need to work on?" wondered Dee Plog of Faith Baptist Church of Amherst, Ohio, had on her …
Team taught by Pastors Evan Sharbaugh and Ryan Duffy, this workshop focused on providing loving, Biblical answers for people struggling with LGBT issues. "You don't …

It's no surprise there was not an empty seat in the room for this workshop. The topic of homosexuality and same-sex attraction is everywhere and …
"Nothing can prepare a dad to see his son suffer," said Pastor Scott Poling as he opened Wednesday's second general session. Poling, senior pastor of …
Two thousand years ago, two disciples were confused, dejected, and dismayed. Today our world is filled with people just as dejected and perplexed. "Are we, like Christ, intersecting with people who are confused and disappointed by life's circumstances?" asks John Greening.
The GARBC's Council of Eighteen met on Monday, June 27, for its first business and planning meeting of 2016. Opening the meeting, chairman Ken Floyd commented on the continuing seismic shifts in the nation's social arena.
Friday, July 3, 2015. The buzz dwindles as attendees, their spirits light and eyelids heavy, head for the airport. Back at the DoubleTree hotel, exhibitors …
John Greening, national representative for the GARBC, preached the final message of the 2015 conference on Friday morning. His title was "The Benediction-Driven Church." Benedictions …
Jeff Newman of Faith Baptist Bible College of Ankeny, Iowa, presented a workshop on helping your church walk through the wilderness experiences. Newman based his …
Dr. Douglas Brown of Faith Baptist Theological Seminary presented on four theological viruses that could come up in everyday conversations in a typical coffee shop. …
To one degree or another, trials and persecutions are likewise inevitable for every faithful Christian. The pressing issue, then, is not if trials are coming, but how believers will respond when they do.
Three men talk about the importance and value of continuing education for ministers. Theirs is a chorus formed by the voices of experience: all three completed their DMin degrees while engaged in full-time vocational ministry.
The annual conference's keynote speakers sit down for a candid panel discussion on life, marriage, and ministry.
The singing of the classic hymn "The Church's One Foundation" is a perfect segue to the morning message, "Union with Christ: Our Future."
Wednesday, July 1. Mark Davis from Faith Baptist Bible College started the teens' morning off by finishing their study in Colossians.
"I just want God to be the main focus," says Gabrielle Gerber of Indianola, Iowa. She is one of several teens competing in the national Talents For Christ competition in Omaha.
Day two of the conference, and only a few of the teens needed caffeine to get started!
Do pastors struggle with having a quality devotional time? Or even with having one at all? This topic was addressed in one of Wednesday morning's workshops.
God's prescriptions for preparation in the midst of trouble are always trustworthy, reliable, and perfect, even when at first blush they don't seem to make sense.
Have you ever felt called to mentor a fellow woman only to tell the Lord that you were too young, didn't have enough life experience, or didn't possess sufficient Bible knowledge? Not so, says Sharon Gutwein. "We are all older than someone."
Christmas Day, 1914. It is bitterly cold on the Western front. British soldiers are hunkered down in their trenches sipping hot beverages and trying to wrap their uniforms just a little tighter to ward off the stinging bite of the wintry air.