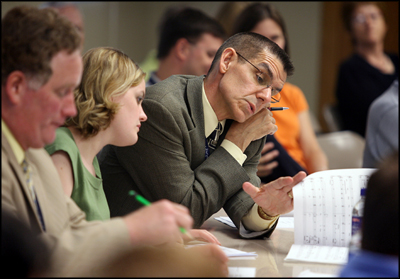 Ken Pyne, Brooke Greening, and Irv Van Hooser check the musical score during the judging of the Female Voice competition during Talents For Christ on Thursday.
High school students from across the country have competed in twelve categories during the annual Talents For Christ competition, part of the 2008 National Conference of the General Association of Regular Baptist Churches.
The students qualified for the annual event by placing first or second in state competitions. Judges chose several of the participants to perform in a concert on Friday morning:
Daniel Park (Campus Baptist Church, Ames, Iowa) — Strings
Austin Crawford (Calvary Baptist Church, Mt. Pleasant, Iowa) — Brass
Stacy Jingst (Southside Baptist Church, Sebring, Fla) — Female Voice
Deon Walker (Calvary Baptist Church, Grinnell, Iowa) — Male Voice
Pamela Betz (Faith Baptist Church, Mason City, Iowa) — Oral Interpretation of Scripture
Laura DeKock (Berean Baptist Church, Pella, Iowa) — Piano
Jared Segerstrom (Walnut Ridge Baptist Church, Waterloo, Iowa) — Preaching
Gretchen Greenhaulgh (Germantown Baptist Church, Metamora, Ill.) — Woodwinds
The results of the individual competitions will be announced on Friday morning.