Save money for GARBC Conference registration! Early bird rates end May 15.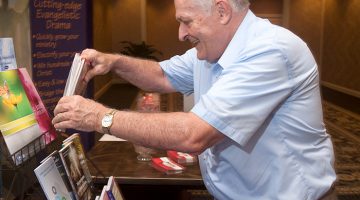 New resources, helpful conversations, and beneficial giveaways make the exhibit area a popular feature at the GARBC Conference. Register today to exhibit at the GARBC Conference in Des Moines June 25–28.
Missing the 2019 GARBC Conference may mean missing one of the biggest blessings of your year! Register now to attend.
Worship is an integral part of Christians' lives, but what exactly is worship? Find out what God says about worship by attending the 2019 GARBC Conference in Des Moines June 25–28.
Enjoy yourself! The 2019 GARBC Conference host, Holiday Inn-Airport Hotel and Conference Center, offers an ideal arrangement for relaxing, meeting friends, and enjoying time with your family.
Plan now to attend the GARBC conference in Des Moines, Iowa, June 25–29, and gain valuable ongoing training.
Registration for the 2019 GARBC Conference is now a click away. Enjoy the convenience of registering online and receive an early bird discount.
Take part in determining your association's leadership. Submit your Council of Eighteen nominations by March 27.
By Mike Hess As I look back over the past couple of decades, I'm reminded of great privileges and opportunities God has blessed me with. …
Now is the time for churches who are considering fellowshipping with the GARBC to apply. The benefits of applying for fellowship are many.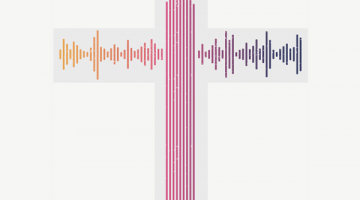 The 2019 GARBC Conference local committee is working hard to prepare for the association's annual conference June 25–28.
DES MOINES, Iowa—Planning for the 2019 GARBC Conference is well underway. Don't miss the opportunity to be part of this exciting week, focusing on the …
Not able to attend the 2018 GARBC Conference? We've brought the conference to you! If you did attend the conference, you may find yourself in the photo galleries! Read news and view photos from each day of the conference. Audio of conference messages is also available.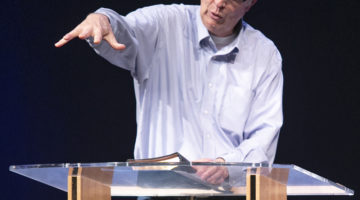 Grand prize drawing featuring our wonderful exhibitors and a final goodbye to John & Daria Greening who are retiring.
As Friday morning turns into Friday afternoon, the 2018 GARBC Conference winds down. The exhibitors begin packing up their displays, and the attendees begin wending …
On Friday morning, John Greening delivered his last conference sermon as national representative. "This could not have been a more delightful experience," he said, referring …
On Friday morning of the conference, attendees honored John and Daria Greening and bade them a fond farewell. Although the Lord surely has many years …
There was great excitement and anticipation Friday morning as the Grand Prize Winners were announced. At 9 a.m., RBP business director Tony Randolph randomly drew …
"Paul's theme for tonight, for us, is how we walk," said Thomas White in Thursday evening's general session. Walking is one of Paul's favorite metaphors …
General Session- Parting Thoughts On The Way Out The Door 9:30 a.m., Friday, June 29, 2018 John Greening, National Representative for the GARBC
On Thursday evening, the Council of Eighteen and outgoing national representative John Greening formally dedicated incoming national representative Mike Hess and his wife, Christina, to …
The 2018 business meeting began with John Greening's final annual report as national representative. Greening updated the messengers on many of the associational developments during …
Great preaching, a business meeting, a new national representative and more!
General Session- Walking in the Way Thursday Evening, June 28, 2018 Dr. Thomas White, President, Cedarville University
Incoming national representative Mike Hess shared from 1 Timothy 3:14–16 Thursday morning. "Just as Jesus reveals who the Father is, the church reveals who Jesus …
General Session-How God Wants You To See Your Church 10:30 a.m., Thursday, June 28, 2018 Mike Hess, Incoming National Representative for the GARBC
"We find ourselves at a seam or a hinge in the argument of the book of Ephesians," said David Gunn, director of Regular Baptist Press, …
General Session-United We Grow 9:00 a.m., Thursday, June 28, 2018 David Gunn, Regular Baptist Press, Arlington Heights, IL
At the annual business meeting on June 28, messengers voted to approve Mike Hess as the new national representative of the GARBC. The vote was …
What pastor isn't in search of the right formula to see his local church grow? But what does growth mean, and how is it to …
During the Wednesday evening service, the association honored Webster Frowner, a longtime pastor in the GARBC and currently the representative for the Mid-Continent Association of …
"I really began to understand 'fathers do not provoke your children,' when my own children became teenagers," said Dr. Stephen Pettit, president of Bob Jones …
General Session- The Mystery and Glory of the Church 7:00 p.m., Wednesday, June 27, 2018 Steve Pettit, President, Bob Jones University
Biblical edification and a Q&A time with Mike Hess highlight the day!
John Jasper (1812–1901) lived in fascinating and historic times. Born into slavery before the Civil War, Jasper became a Christian in 1839 and, later, an …
National representative candidate Mike Hess took questions from conferees on Wednesday afternoon. In a session lasting 80 minutes, Hess fielded 30 questions on a broad …
Module- Turning Guests Into Family Wednesday, June 27, 2018 Mark Neal, Hamilton Hills Church, Fishers, Indiana
General Session- Gospel-Rooted Ethnic Unity 10:30 a.m., Wednesday, June 27, 2018 Michael Wilburn, Immanuel Baptist Church, Richmond, Virginia
General Session- From Grace to Glory 9:00 a.m., Wednesday, June 27, 2018 Duke Crawford, Emmanuel Baptist Church, Toledo, Ohio
"I don't know everything," said Duke Crawford, pastor of Emmanuel Baptist Church of Toledo, Ohio, in Wednesday morning's first general session. "But I do know …
"Who am I? Who are you? What is my identity?" asked Thomas White, president of Cedarville University, at the beginning of the 2018 conference's first …
Tuesday's festivities kick off with Council of 18 meetings, staff set up, and much more.
General Session- Love That Church in Christ Tuesday evening, June 26, 2018 Dr. Thomas White, President, Cedarville University
The annual Council of Eighteen meetings were held on June 25 and 26 ahead of the 2018 annual conference. Every year, the council meets to …
FISHERS, Ind.—The 2018 GARBC Conference grand opening happens June 25, 2018! Pastor Mark Neal and the staff of Hamilton Hills Church, conference hosts, extend a …
The GARBC Conference is a great opportunity to connect with ministries and organizations that are doing God's work and have resources that will benefit your …
On Friday, June 29 at 9:30 a.m., we will honor the Greenings in the closing service of the GARBC Conference. If you are unable to attend the entire conference, you are welcome to attend the Friday service for free.
The 2018 GARBC Conference is almost here! Excitement is building for our time together, June 26–29, at Hamilton Hills Church in Fishers, Indiana. Don't miss …
What direction is your church heading? Do you have a plan for growth, both spiritually and numerically? Are your classes, programs, and events working together …
Be sure to join ministry leaders and colleagues for lunch at the GARBC Conference! In addition to the meal, this year's luncheons will serve up …
The 2018 GARBC conference is sure to be historic due to the vote to confirm the association's next national representative. Be sure to read the …
The 2018 GARBC Conference will feature expository preaching at its finest. As speakers present the book of Ephesians, attendees will focus on the conference theme, …
The frenzy of preparation for the 2018 GARBC Conference is in full swing! Those who are prepping for and presenting at the conference are busy …
For some time John Greening had been telling the Council of Eighteen, "I am planning to retire soon, and I would prefer a search process begin sooner rather than later. Don't wait to seek God's man."
Mike Hess, nominated to be the next national representative of the GARBC, shares his ministry journey.
The Council of Eighteen announces its recommendation of Pastor Mike Hess to serve as the next national representative of the GARBC.
Register early for discount! Interact with national rep candidate at conference!
Mark your calendars and get ready to be blessed! Plan now to attend the 2018 GARBC Conference at Hamilton Hills Church in Fishers, Indiana, June …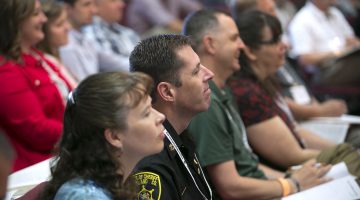 Couldn't make it to the 2017 GARBC Conference? We've got stories, photos and audio for you!
More than 75 Cedarville University alumni, parents of alumni, and current students attended a special ice cream social at the recent GARBC national conference in …
Hearts were stirred and spirits were lightened on Friday morning as conference attendees departed North East, Maryland, for their respective places of residence and ministry. …
"Mentoring Young men for Ministry" was the final "best church practice" examined at the 2017 GARBC Conference in North East, Maryland. One of the most …
"It's been a real passion of mine to try to help people think Biblically about worship," said Ken Pyne as he introduced his workshop topic, …
Anyone in vocational ministry knows the pressure upon marriage that it can bring. As conference attendees prepared to head home to their ministries on the …
Enjoying edification that comes from the Scripture and from fellowship.
General Session-Harmonizing Marriage and Ministry Friday Moring, June 30, 2017 John Greening, National Representative, Arlington Heights, IL
The messengers of the Regular Baptist Churches meeting in session on June 29, 2017, at North East, Maryland, elected six new or returning members to …

Planting churches is a little like hunting elk, says Jim Tillotson, president of Faith Baptist Bible College and Theological Seminary. In both cases, lots of …
General Session-The Duties, Dangers, and Delights of Church Planting Thursday Evening, June 29, 2017 Jim Tillotson, Faith Baptist Bible College, Ankeny, IA
General Session-Long-Haul Leadership Thursday Morning, June 29, 2017 Don Shirk, Grace Baptist Church, Batavia, NY
On Thursday night of the 2017 GARBC Conference, National Representative John Greening paused to pay special tribute to Ruth Van Pelt for her many years …
National Representative John Greening announced his retirement plans on Thursday morning at the annual business meeting of the 2017 GARBC Conference. "I can honestly say …
"Pastor Mike Hess, could you fulfill faithful gospel ministry if you, perchance, got the job of team chaplain for the St. Louis Cardinals?" "You know, …
Stay in one place for very long and you will certainly stand out, as Pastor Don Shirk said in the Thursday morning general session of …
General Session-Taking the Gospel to the City Wednesday Evening, June 28, 2017 Steve Viars, Faith Church, Lafayette, IN
Students Alive! kicked off day three of the 2017 conference with two great sessions featuring Matthew Malin (Piedmont International University) and Caleb Acree (Faith Baptist …
John Greening reported to the attendees of the 2017 GARBC business meeting on Thursday, June 29, that he will be retiring as national representative of …
Alumni and friends of Faith Baptist Bible College and Theological Seminary enjoyed cheesecake, fellowship, and giveaways following the last evening session of the 2017 GARBC Conference. …
"What you have to decide is, is the church going to be a haven of grace?" The question Steve Viars poses is a probing one. …
In his youth ministry workshop on Wednesday morning, Josh Jones of Breesport (New York) Baptist Church asked a question that can be transformative to any …
"If we asked our neighbors to just brainstorm words that come to their minds when they think about our church, how long would it be …
"It pays good money to be a hypocrite today," said Pastor Mike Hess of Calvary Baptist Church in Mount Pleasant, Iowa, at the beginning of …