Not able to attend the 2020 GARBC Conference? Read news and view photos from each day of the conference. Audio of conference messages is also …
"Each year, we make note of faithful servants of Christ that have gone to be with the Lord," David Strope said at the 2020 business …
"We pastors are good about challenging people to run, but we don't give them a track to run on." —W. Thomas Younger (1929–2003), pastor and …
"The God that you think you know is greater than you can begin to imagine," says Pastor Steve DeWitt, closing out the 2020 GARBC Conference.
General Session—Incomprehensible God Tuesday Evening, June 30, 2020 Steve DeWitt, Pastor, Bethel Church, Crown Point, Ind.
General Session—The Beauty of Christ Tuesday Afternoon, June 30, 2020 Steve DeWitt, Pastor, Bethel Church, Crown Point, Ind.
Tuesday's speaker's panel at the 2020 GARBC Conference provided virtual conferees a candid experience with this year's speakers as they fielded questions related to ministry …
Fixing our perspective through God's Word, speaker panel, and break sessions were the highlights of the day.
"What do we perceive in Jesus?" Steve DeWitt asked as he began the third general session of this year's conference. "If God is displaying the …
During the business meeting on Monday, voting messengers approved an update to the GARBC's official Purpose Statement. As national representative Mike Hess explains, there were …
The messengers of the Regular Baptist Churches meeting in session on June 29, 2020, elected six new or returning members to the Council of Eighteen: …
It is a year of firsts for our annual meeting. We are thankful for the interaction and a great day of God glorifying sessions!
General Session—The Supremacy of Christ Monday Evening, June 29, 2020 Steve DeWitt, Pastor, Bethel Church, Crown Point, Ind.
General Session—Stay in Your Lane Monday Afternoon, June 29, 2020 Mike Hess, National Representative, GARBC
Many have had their world upended by the events of 2020, including believers and church leaders. A key to staying on level ground is having …
David Strope, Council of Eighteen chairman, called to order the 2020 business meeting. This year's business meeting presented some unique challenges in its virtual format. …
This has been an eventful year. The COVID-19 pandemic has swept across the globe, wreaking havoc in the forms of sickness, death, and devastated economies. …
To parents whose adult children have wandered from faith in Christ, Strope says, "You are not alone."
In recent days, hateful and murderous actions against African Americans have dominated the news cycle and our national conversation. This has served to heighten the …
"In my opinion, the subject of hermeneutics—the art and science of interpreting the Scriptures—is probably the most important issue or question in Christendom today," said …
Mike Hess, national representative of the General Association of Regular Baptist Churches, opened the 2020 GARBC Conference by welcoming guests and reading Romans 8:31–39. He …
The virtual 2020 GARBC Conference is ready for you wherever you may be! Since GARBC churches began conferring in 1932, this year's conference is only the second time in which conferees have not been able to meet in person.
The annual Council of Eighteen meetings were held on June 26 ahead of the 2020 annual conference. Every year, the council meets to settle outstanding …
Enjoy the "stayadvantage" of the virtual GARBC Conference beginning Monday, June 29, at 11 a.m.
For the first time in history, you and your church can attend the GARBC Conference without the cost of travel, a hotel, and meals.
Register now for our virtual conference! Then on Monday, June 29, the first day of the conference, grab a cup of coffee and join us at 2:30 p.m. as we interact with association business together.
During this year's virtual GARBC Conference, June 29–30, our churches will come together online to grow spiritually and gain ministry skills.
By registering for our virtual GARBC Conference June 29–30, you will be able to join a breakout session each day, choosing from three dynamic modules.
Get ready to connect! Registration for conferees and exhibitors is now open for the 2020 GARBC Conference, to be held exclusively online June 29–30.
Our 2020 GARBC Conference will now be exclusively virtual!
On the association level, major decisions are being made regarding our annual conference. The Council of 18 conference committee has developed an alternative option, which was met with full council approval. Virtual Attendance will now be available for the 2020 annual conference.
The Council of Eighteen nominations have been extended until April 15, 2020.
Like the rest of the world, we have been keeping a close eye on the news of the coronavirus (COVID-19). Our prayers for wisdom, comfort, …
The Word of God is the basis for all events planned for the upcoming GARBC Conference. Plan on joining David Gunn as he presents the conference module "Interpreting Scripture Well: The Need for a Sound Hermeneutic" on Tuesday, June 30.
Refreshing days of spiritual renewal await you at the upcoming GARBC Conference, Monday, June 29-Thursday, July 2. Conference registration is now open! Take advantage of …
Now is the time to nominate candidates for the GARBC Council of Eighteen. You can help shape the future of the association by contributing nominations.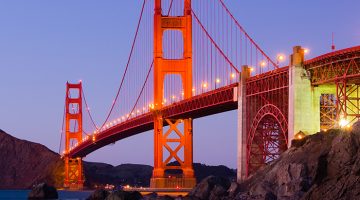 California has natural beauty and many venues for family fun. A great way to see sights you normally wouldn't visit is to plan a vacation before or after the 2020 GARBC Conference, Mon., June 29–Thurs., July 2, in Sacramento.
A spectacular 2020 GARBC Conference is scheduled to take place in Sacramento, California, Monday, June 29–Thursday, July 2.
Not able to attend the 2019 GARBC Conference? We've brought the conference to you! If you did attend the conference, you may find yourself in the photo galleries! Read news and view photos from each day of the conference. Audio of conference messages is also available.
The lobby of the Des Moines Holiday Inn conference center is quiet now, seemingly for the first time in five days. The conferees and exhibitors …
As 2019's GARBC Conference came to a close, Jon Jenks, vice president of training for Baptist Church Planters and state representative of the Wisconsin Association …
Fun-filled drawings of merchandise provided by vendors is a much anticipated event at the GARBC Conference.
General Session—The Clarity of the Throne Friday Morning, June 28, 2019 Jon Jenks, State Representative, Wisconsin Assoc. of Reg.
Final day of spiritual challenges, special prizes, and "see you laters!"
Worship put into practice today with volunteering, memorizing scripture, singing, and opening God's Word.
Another day of excitement and fellowship ensued for the students at this year's conference as they met Thursday at Soteria Church. After they kick-started their …
How should we respond to suffering? How can believers rejoice in their pain? Mark Vroegop suggests that perhaps what believers need is lament. In Thursday …
At the 2019 GARBC business meeting on June 27, six members were elected to the Council of 18 for three-year terms.
General Session—The Minor Key of Worship Thursday Evening, June 27, 2019 Mark Vroegop, Pastor of College Park Church, Indianapolis
General Session—The Harmony of Worship Thursday Morning, June 27, 2019 Mark Vroegop, Pastor of College Park Church, Indianapolis
David Strope, Council of Eighteen chairman, called to order the 2019 business meeting. After a full year of service, Mike Hess began his first annual …
"Last evening, we looked at the purpose of worship," Mark Vroegop said as he kicked off Thursday morning's first general session. "This morning, I want …
Students met Wednesday morning to play games, wake up, and prepare for the first of three services at the Students Alive! Conference held at Soteria …
General Session—The Purpose of Worship Wednesday Evening, June 26, 2019 Mark Vroegop, Pastor of College Park Church, Indianapolis
"Worship is really, really important," Mark Vroegop, lead pastor of College Park Church in Indianapolis, Indiana and this year's keynote speaker, stated emphatically in his …
Scott Polling, pastor of Harvest New Beginnings in Oswego, Illinois, led a training module Wednesday on the burdens and blessings of ministering in a larger …
Dan Parker, associate pastor of worship and music at First Baptist Church, Elyria, Ohio, led a module Wednesday on the art and science of putting …
Diane Scallon, pastor's wife of Grace Baptist Church, Laurel, Maryland, spoke on building relationships with God and others, during the Wednesday afternoon module for women. …
How important is a tech ministry to a healthy church? Daniel Chin, systems administrator for Regular Baptist Ministries, and Rich Fuchs, president of Ministry Tech, …
General Session—True Worshipers Wednesday Morning, June 26, 2019 Mike Augsburger, Pastor of Soteria, Des Moines, Iowa
General Session—Worship as Giving Yourself to God Wednesday Morning, June 26, 2019 Ross Shannon, Pastor of First Baptist Church, Lapeer, Mich.
All people are worshipers of one thing or another, according to Mike Augsburger. "God has created all humanity to worship, to stand in wonder of the things we're passionate about," he says. And that passion inevitably overflows into worship. For far too many people, the problem isn't that they're not worshiping; it's that they're worshiping the wrong things.
With more than half of American churches retaining fewer than 100 members, small congregations must impact the world for Christ in a big way. Tom …
All ages enjoying Christ together!
What is forgiveness? Of what does it consist? Is Biblical forgiveness totally unconditional, or does it come with strings attached? These are just a few …
General Session—How the Holiness of God Fuels Our Worship (Isa. 6:1–13) Tuesday Evening, June 25, 2019 Mike Hess, National Representative of the GARBC
Wednesday morning opened with a message from Ross Shannon, senior pastor of First Baptist Church in Lapeer, Michigan. Continuing to develop the theme "Essence of …
GARBC National Representative Mike Hess opened the first general session of the 2019 Annual Conference by announcing the opening of enrollment in a national 403(b) …
Great first day of enjoying friendships and learning!
"We serve a holy, holy, holy God," Mike Hess proclaimed in his inaugural conference session as national representative. As he opened the 2019 conference's first …
Students Alive! kicked off the 2019 conference at Soteria Church in Des Moines, Iowa. They began the evening by worshiping the Lord through song, followed …
A great need exists for churches to develop a culture of intentional evangelism. This was the subject of Tuesday's module by Pat Nemmers (lead pastor …
The Council of Eighteen, governing body for the Regular Baptist Churches, met on Monday evening and Tuesday morning ahead of the 2019 conference. Every year, …
Conferees are arriving for a spiritually rich time at the 2019 GARBC Conference, June 25–28.
Regular Baptist staff members are paving the way for guests to have a great time at the 2019 GARBC Conference in Des Moines, Iowa, June 25-28.
The GARBC Conference is your place of national networking to help you in your ministry.
Conference speakers to bring "Essence of Worship" from God's Word.
Save money for GARBC Conference registration! Early bird rates end May 15.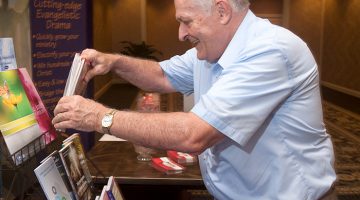 New resources, helpful conversations, and beneficial giveaways make the exhibit area a popular feature at the GARBC Conference. Register today to exhibit at the GARBC Conference in Des Moines June 25–28.
Missing the 2019 GARBC Conference may mean missing one of the biggest blessings of your year! Register now to attend.
Worship is an integral part of Christians' lives, but what exactly is worship? Find out what God says about worship by attending the 2019 GARBC Conference in Des Moines June 25–28.